Municipal Implement Carriers
The ideal solution for cities due to its maneuverability and agility with modern diesel technology within the stage V emission regulations.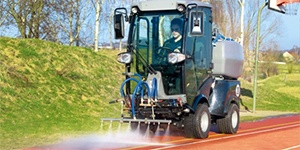 Street Washing System
Effectively wash down and clean sports grounds and small parks with the water spray attachment. It can also be used for spraying brine in winter months.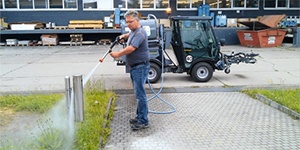 On-Board Pressure Washer 
Ideal for cleaning machines and containers or spot cleaning of bus stops and bins - a perfect partner with the washing or watering system.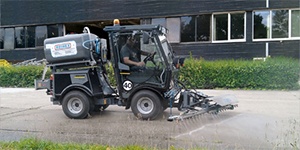 Scrubdeck
Scrub and sweep in one - the scrubdeck is the ideal match for maintenance and basic cleaning of large areas.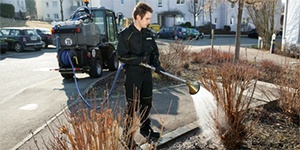 Irrigation and Watering System
Keep your flowers vibrant and green spaces healthy - easily and conveniently. The spray lance is available with the sprinkler and point jet attachments. 
Mower (with Container)
Quickly and easily change from sweeping to mowing mode and keep on top of your green spaces. The cuttings are collected and stored in the hopper leaving nothing behind but great results.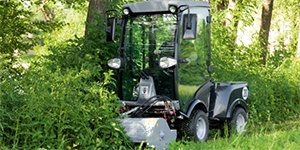 Flail Mower 
Remove overgrown roadside greenery with ease. In addition the standard flail mower, the extended mower can be used on both sides with a reach of up to 3.5 metres.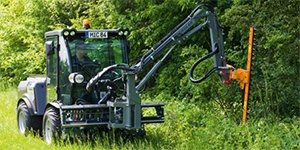 Hedge Shears
Mounted on the extension arm, attachments including hedge shears, flail mower and pruning shears easily control and meaintain the appearance of your trees, hedges and brushes.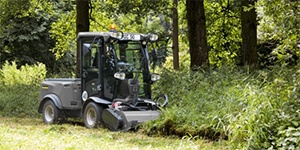 Large Flail Mower
Easily and cleanly cut through high grass and uncontrolled growth thhanks to the cup blade and high power of the axial piston hydraulic motor.
---
WHY SHOP WITH KÄRCHER CENTER TRAFALGAR?

FREE UK Mainland Delivery 
on all orders over £50

Call 01403 273 444
for Expert Advice and Support