Van Mount Powered by Kärcher HDS 1000 DE
The Van Mounted self contained mobile steam cleaner unit is the ideal solution for removing gum, graffiti, street grime along with many other industrial cleaning applications. The onboard hot steam pressure washer is powered by Kärcher's Professional HDS 1000DE hot water high-pressure cleaner with its Yanmar diesel engine is mounted into the back of the vehicle with onboard tools that are completely self-contained and 100% mobile making it perfect for working in residential areas.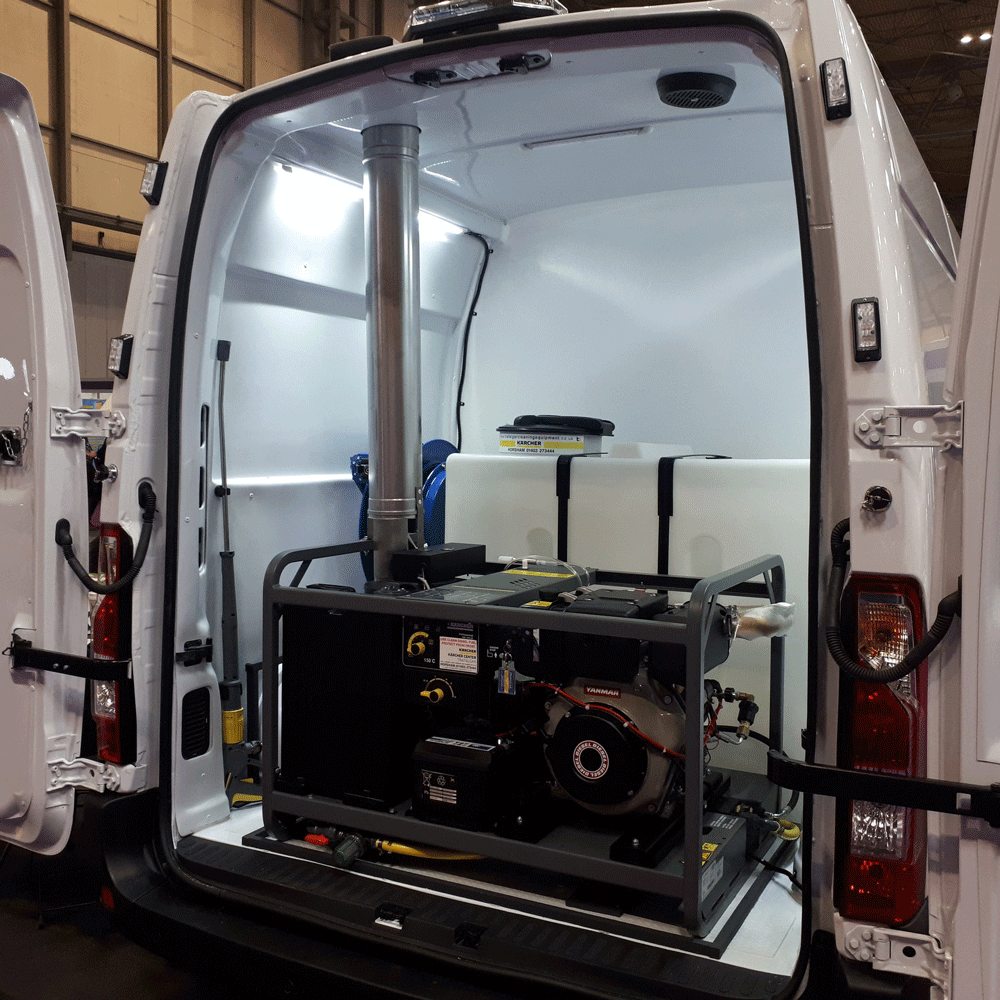 Image shows the Van-Mount's unique Rear Working Compartment housing the Kärcher HDS 1000 DE Pressure Washer, and Front Wash Down & Storage Compartment.
Remove stubborn chewing gum, graffiti and street grime from our city streets with the Van-Mounted Gum & Graffiti Removal Unit Powered by the Kärcher HDS 1000 DE Hot Water High Pressure Washer 
Trafalgar Cleaning Equipment has developed a quiet, unobtrusive and low maintenance solution to combat gum and graffiti removal that is the quietest in its class making it perfect for local authorities, agriculture, plant hire and contract cleaners working in residential areas, shopping malls, parks and remote areas.  
The Van Mount is the ideal mobile cleaning solution for removing chewing gum and graffiti from our city streets and pavements on an industrial scale. Along with its core features for gum and graffiti removal the Van-Mount is also the ideal solution for cleaning down the grime on our streets and pavements in city and urban areas that require industrial cleaning.  
The Van Mount comes with its own on-board tools that are self-contained within the vehicle and is 100% mobile for inaccessible and hard to clean areas.  
Features 
Operated with doors shut, reducing noise to a minimum  

Fully self contained, fill up with water & diesel and go 

Up to 2.5 hours - with the option for continual use 

Ergonomically designed storage for ancillary equipment 

Up to 90m of high pressure hose 

Fully waterproof and sealed to increase the life of the vehicle 
Fitted with Kärcher's powerful and robust HDS 1000 DE Hot Water Pressure Washer that cuts through gum, graffiti and street grime like butter! 
The Van Mount is fitted with a Kärcher HDS 1000 DE powerful mobile hot water pressure washer built in a sturdy tubular frame into the back of the vehicle offering all-round protection for components. The HDS 1000 DE high pressure washer is ideal for cleaning applications where there is no power supply available, and with a 10 HP Yanmar diesel engine featuring electric start function, the HDS 1000 DE offers high water flow and pressure rates ideal for applications where high performance cleaning is required and is best suited for the plant hire and construction industry, agricultural applications as well as use in the public sector. 
Self-Contained Mobile Steam Cleaner (SCMSC)
All Van Mounted vehicles are fitted with a Kärcher HDS 1000 DE high steam pressure washing unit with up to 3000psi working pressure to tackle even the toughest gum, graffiti, or traffic grime with temperatures from cold to 150C for hot steam washing.  
The Van Mount has an onboard baffled water tank allowing up to 4 hours constant use, twin lances for dual operation attached to up to 90m of high pressure hose reels. The unit has its own unique exhaust extraction and cooling vent/fan system to keep the vehicle clear of any fumes exuded from the onboard Kärcher 1000 DE diesel pressure washer unit.  
The van is divided into two sections, the rear section housing the Kärcher 1000 DE high pressure washer unit and water tank, and the front section that accommodates for the operators with storage cabinets, hand wash facilities and first aid kit, along with any accessories like surface cleaners etc.  
To provide a tough interior all our vehicles are Speedlined for durability and safety. The Van Mount is capable of meeting all your cleaning needs especially in local authorities, agriculture, plant hire and contract cleaning. 
Built to suit your requirements 
The customer leads the design on all of our conversions. Let us build a vehicle specifically to your requirements. We can fit-out most types of vehicle, subject to them having the correct payload, please contact our dedicated sales team for further information. 
Most common vehicle used 
We have many years of experience converting commercial vehicles into our unique Van Mounts for commercial use. The following units are a firm favourite among city councils and private cleaning companies alike. 
Ford transit MWB medium roof T350. 

We can fit any type of vehicle, subject to them having the correct payload (Contact our expert sales team for further information). 

All vehicle conversions are weighed prior to them leaving the building, Certification provided. 
*Weights (approx.): Unladen: 408kg | Laden: 1098kg 
Ideal for removing chewing gum, graffiti, fly posters, street and pavement washing, park areas and much more
Variable Temperature 

Pavement Cleaning at up to 100SqM per hour 

Low Water Consumption 

Galvanised Trailer 

Self Retracting Hose Reel 

Low Noise 

A Range of Accessories to complete many different tasks 

Thiefbeater Security System (Optional) 
---
Front & Rear Compartment Wet & Dry Sections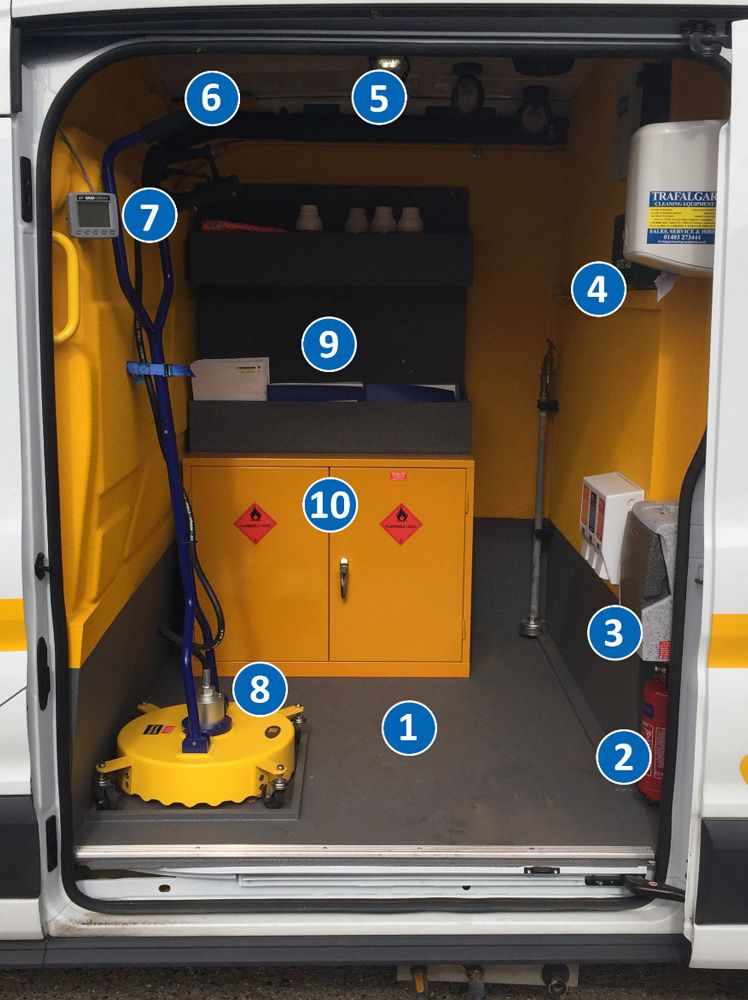 Front Compartment (Dry Section)
Whole compartment sprayed with this hard epoxy resin coating to waterproof and protect vehicle from interior rusting and and damage.
Fire Extinguisher
Hot Hand Wash
Eye Wash & First Aid Kit
Strip Lighting
Manual Fletner
Vehicle Overload Protection System (This device provides both audio and visual warnings of the vehicles current weight. Not only will it indicate an overall overload, it will also indicate if either axel is over weight.)
18" Rotary Floor Tool (Ideal for flat surface cleaning.)
Compartmented Storage
Chemical Storage Cabinet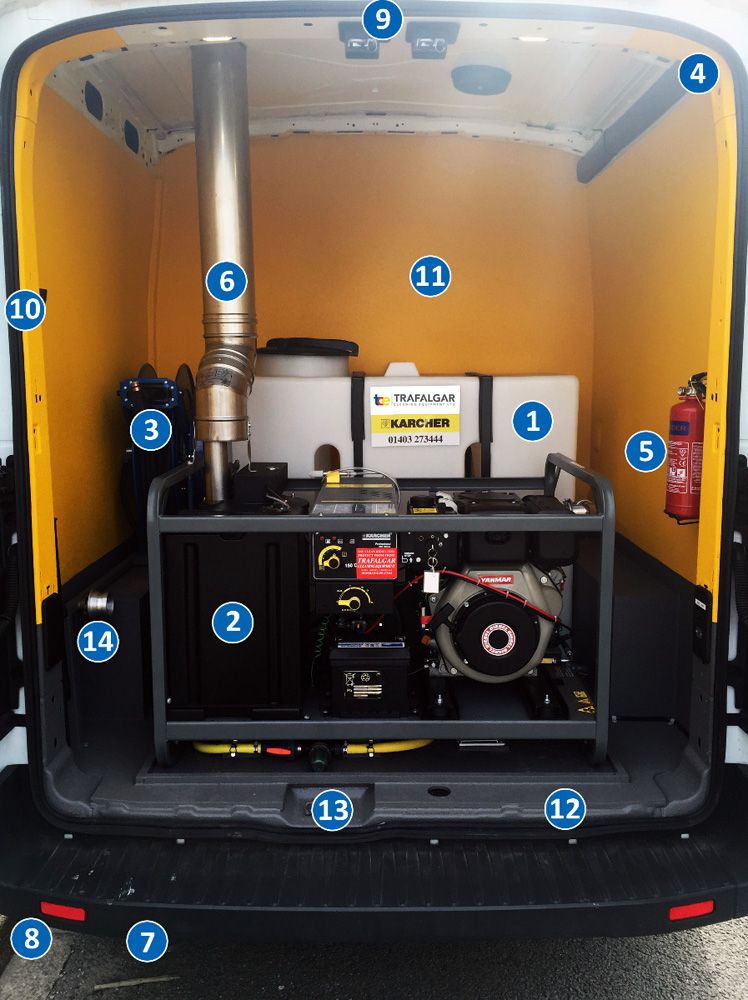 Rear Compartment (Wet Section)
650 Litre Baffled Water Tank (Fitted with ball cock system that prevents overflowing.) 
Karcher HDS 1000 DE Hot Pressure Washer 
30 Metre Retractable Hose Reel (Additional hose can be added, up to an extra 60 metres.) 
Electric Fletner (Comes on automatically with the steam unit to vent away unwanted fumes.) 
Fire Extinguisher 
Flue for Burner Unit 
Drain for Water Tank & Driptray 
Filling Point for Water Tank 
Flashing Strobe Beacon 
Rear Door Outlet for Hose (This allows the unit to be operated with the door closed, helping reduce noise and increase security.) 
Waterproof Epoxy Resin Coating 
Ventilation for Generator Exhaust 
Water Filter (All water from the unit passes through this.)
Hydrant Filling Adaptor
---
Request a free on-site demo of the Van Mount. Call 01403 273 444 and speak to an expert..